MUSCULAR DEGENERATION, OR SARCOPENIA, IS A NATURAL PROCESS WHICH ACCELERATES WITH AGE AND IN CERTAIN CASES TURNS INTO DYSTROPHIES. IT IS CHARACTERISED BY THE LOSS OF MUSCLE MASS AND FUNCTION, WHICH UNDERLIES A GENERAL DETERIORATION IN PHYSICAL CONDITION. OBESITY AGGRAVATES SARCOPENIA.
Annual loss of 2% of muscle mass from the age of 50
As the body grows older, its composition changes. Fat mass increases and lean mass (bone mass, organs, and muscular tissue) decreases. The purely quantitative definition has evolved since 1989 to take into account both the loss of muscle mass and function: sarcopenia is thus now defined as the diminution of muscle mass and strength, combined with a reduction in physical performance.
Sarcopenia is at the origin of a general decline in the physical condition. It manifests itself through an increased risk of falls, a progressive incapacity to carry out day to day actions and a loss of independence, leading inexorably to increased mortality. Various studies estimate that 25% of individuals over the age of 70 throughout the world are sarcopenic and 40% of those over 80.
Sarcopenic obesity: an aggravated form of sarcopenia
According to a recent study, the risk of a subject who is obese and sarcopenic experiencing a decline in functional capacities is three times greater than that of a slim person or a non-sarcopenic obese person at the end of a monitoring period of eight years.
The loss of metabolic quality of the skeletal muscle, in particular the capacity to oxidise carbohydrates and lipids and to synthesise proteins, considerably increases the risk of diabetes and cardiovascular disease in patients who are often being treated for one or more of the following pathologies: arterial hypertension, diabetes, heart failure.
For this population the answer consists in restricting potentially harmful polymedication and treating not the symptoms but the main cause of the pathology, by combining physical exercise and an appropriate, targeted medical intervention.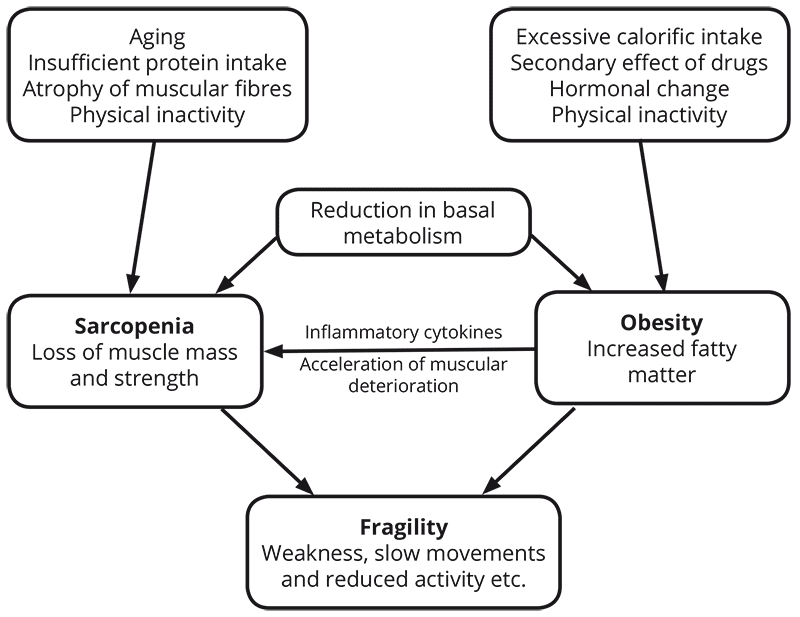 BIOPHYTIS focuses on sarcopenia in obese subjects, for which there is no registered treatment, through the use and development of SARCOB technology which combines the drug candidates SARCONEOS and BIO103.