THE TWO MOST ADVANCED BIOPHYTIS PROGRAMMES TARGET THE TREATMENT OF TWO AGE-RELATED PATHOLOGIES THAT ARE PARTICULARLY DISABLING, IN INDICATIONS WITH NO DRUG-BASED SOLUTION TODAY : SARCOPENIA (MUSCLE DEGENERATION) AND ARMD (AGE-RELATED MACULAR DEGENERATION).
The development strategy chosen by BIOPHYTIS is particularly original. It resides in the fact that each of its two research programmes forms a complete "technological package" consisting of:
a first generation candidate (Series 01: SARCONEOS and MACUNEOS) based on the development of the natural active substance extracted from the medicinal plant as the active ingredient;
a second generation candidate (Series 03) based on the development of a proprietary analogue derived from production of the compound by chemical hemisynthesis.
a well explored and described mechanism of action and pathway.
a characterisation of the effects in a number of secondary indications.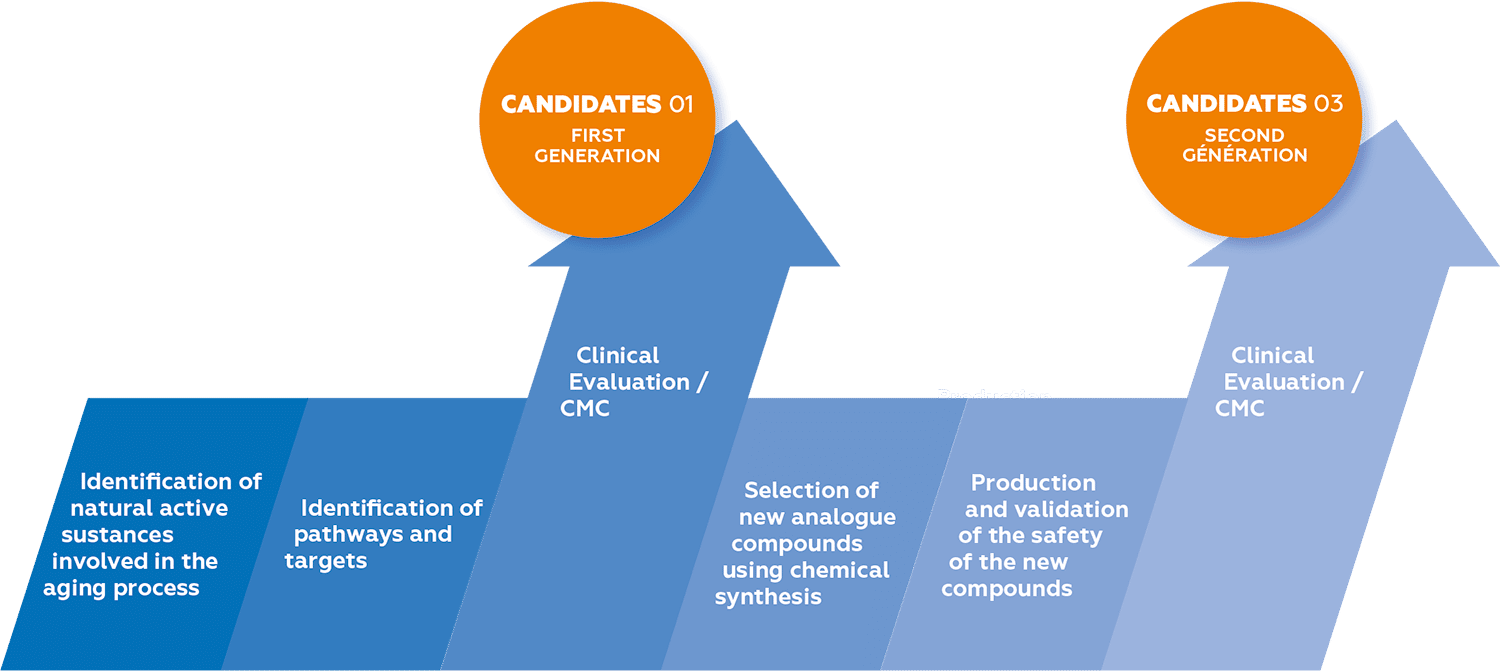 The Series 01 : SARCONEOS and MACUNEOS is derived from a phenotype screening process on cellular and animal models of the pathology. Their origin also enables the clinical development of the identified candidates. Because of their dietary exposure in man these substances have very low levels of toxicity. The discovery of their effects on the aging process has enabled their use in treating targeted pathologies to be patented. BIOPHYTIS has thus developed SARCONEOS for treating sarcopenia and MACUNEOS for ARMD.
As for the Series 03, it has been developed through detailed understanding of the mechanisms of action of the first generation products, in particular of the candidates' molecular targets. This involves analogue compounds of the natural substances synthesised by medicinal chemistry and selected from previously calibrated cellular models. Their chemical synthesis, which has been patented by BIOPHYTIS, also enables some of their pharmacological properties to be enhanced, in particular their bioavailability. BIOPHYTIS has thus developed BIO103 for the treatment of sarcopenia and BIO203 for the treatment of ARMD.