AGE-RELATED MACULAR DEGENERATION (ARMD) IS AN IRREVERSIBLE DISEASE OF THE RETINA, CAUSED BY THE CHRONIC AND PROGRESSIVE DEGENERATION OF THE MACULA, LOCATED AT THE BACK OF THE EYE. ITS ONSET IS FROM THE AGE OF 50 AND IT CAUSES A SIGNIFICANT DECREASE IN VISUAL CAPACITY, PARTICULARLY IN CENTRAL VISION. IT IS THE PRIMARY CAUSE OF VISUAL IMPAIRMENT AFTER THE AGE OF 50 IN INDUSTRIALISED COUNTRIES.
There is no treatment available in 80% of cases
The early stage of ARMD only marginally affects vision. The subjects will gradually notice a deformation in the central part of their vision (due to deposits called drusen under the cells of the retinal pigment epithelium). This dry intermediate form is diagnosed by the ophthalmologist. The subsequent phases consist of two possible forms of ARMD: geographic atrophy and exudative ARMD (also called wet ARMD, or neovascular form). These two forms lead to the destruction of the macular neurosensory retina, with the evolution of geographic atrophy being generally very slow, whereas wet ARMD can lead to complete blindness within a few weeks.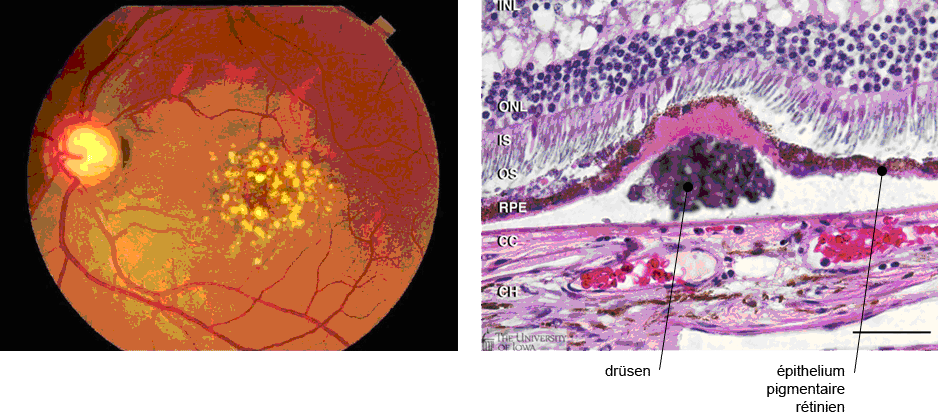 ARMD
Only exudative ARMD is treated, with anti-VEGF antibodies. This requires an expensive course of intravitreal injections (€10,000/year). The other forms of ARMD account for 80% of recorded cases.
Without treatment, by 2050 more than 60 million people throughout the world – including 2 million in France – will be affected making this a major health concern among elderly populations.
A multifactorial pathology
ARMD is a multifactorial, age-related disease with many associated risk factors, such as the genetic context, gender, diet, smoking or exposure to the sun.
BIOPHYTIS is aiming to treat the dry form of ARMD with a product to be administered orally, through the development of the MACULIA technology which combines the drug candidates MACUNEOS and BIO203.