Covid-19 has completely transformed our society on a global scale and has had a devastating effect particularly on the frail elderly. We have been very eager to answer the calls from our industry, as well as national and international organizations to join the global effort to fight this pandemic.
The COVA clinical program evaluates the therapeutic efficacy and the safety of Sarconeos (BIO101) as a treatment to prevent further respiratory deterioration in patients with acute respiratory failure associated with COVID-19.
The Coronavirus SARS-CoV-2 can cause Acute Respiratory Distress Syndrome (ARDS) by disrupting the renin angiotensin system (RAS), which has a key role in regulating respiratory function. It is believed that SARS-CoV-2 enters the lung cells using the Angiotensin 2 Converting Enzyme (ACE-2), a key enzyme in the RAS, inhibiting the system's protective arm.
Sarconeos (BIO101) activates the MAS receptor, a key component of the protective arm of the RAS, and has been shown to significantly improve respiratory function in several preclinical models.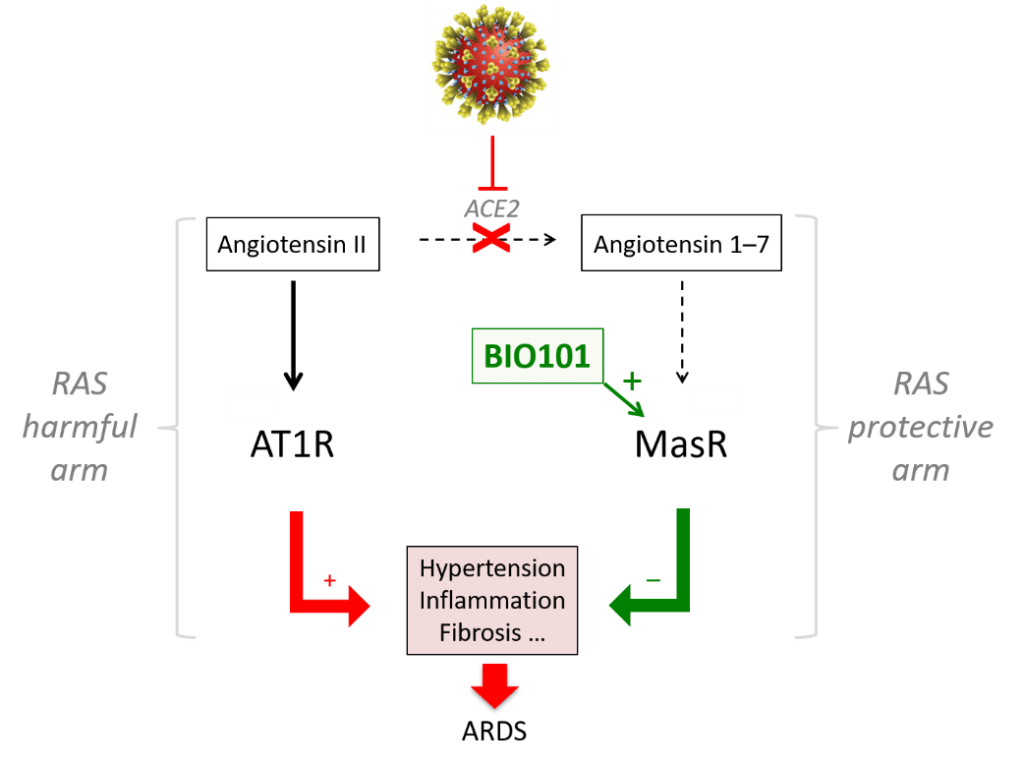 Sarconeos (BIO101) is a drug candidate that has demonstrated a good safety profile during the SARA development program which is evaluating its ability to improve muscle function in frail elderly patients with sarcopenia (the phase 2b study, SARA-INT, is currently underway). Sarconeos (BIO101) is also being developed to improve the respiratory function of children with Duchenne muscular dystrophy (DMD). COVA is based on clinical and preclinical data from Sarconeos (BIO101) in these neuromuscular diseases
Objectives
In the context of the world crisis caused by Covid-19, the aim of Biophytis is to bring in the shortest time a medical treatment that will help to prevent further respiratory deterioration in individuals who present with severe respiratory manifestations of COVID-19. Biophytis is bringing its expertise in ageing science to a patient population particularly susceptible to such deterioration, as old age and frailty are important risk factors.
Our objective is to get a fast-tracked conditional approval, based on a phase 2/3 study that will recruit several hundred participants worldwide.
We will start with centers in Belgium, followed by the US, pending approval by the FDA. Other countries in Europe may follow as well.
The study is titled: Testing the efficacy and safety of BIO101, for the prevention if respiratory deterioration, in patients with SARS-CoV-2 pneumonia (COVA study) and is designed as a phase 2/3, randomized, double-blind, placebo-controlled, adaptive and seamless study, with 2 parts:
The first part of the study will recruit COVID-19 patients who have developed severe respiratory symptoms within the last 7 days. This first part will include 50 COVID-19 patients with the main criteria being the absence of high-flow oxygen use, assisted ventilation, or death, within a 28-day period.
Multiple secondary criteria, including Sarconeos (BIO101)'s safety and tolerability, improvements in COVID-19 patients' respiratory function, and effects on biomarkers associated with the Renin-Angiotensin System (RAS), target of Sarconeos (BIO101), will also be evaluated.
An interim analysis conducted by an independent Data Monitoring Committee (DMC) ), expected in the 4th quarter of this year, subject to the evolution of the COVID-19 epidemic,  will determine whether the study should progress into the second part and will allow recruitment of required sample size needed for detecting Sarconeos (BIO101) effects in part 2.
The interim analysis will also provide preliminary data on the efficacy of Sarconeos (BIO101) to prevent the deterioration of respiratory function in COVID-19 patients.
The second part of the COVA trial which will include at least 180 COVID-19 patients will also last 28 days and evaluate the same main and secondary criteria as those measured in the first part.