Click here to see the SARA presentation in video
About Sarcopenia
SARCONEOS has the potential to be the first approved therapy to preserve mobility and strength in patients with sarcopenia, a progressive condition affecting 50 million people worldwide that leads to loss of independence and decreased mobility in the aging population.
Sarcopenia is characterized by a loss of muscle mass and function that occurs in the elderly population and causes a general deterioration in overall physical condition.
Decreased gait speed and weakness are the two functional consequences of sarcopenia.
Sarcopenia results in a greater risk of falling, a progressive inability to perform everyday actions and a loss of body control.
Sarcopenia related injuries lead to an increase in hospital stays and patient mortality.
To date, there is no registered treatment to address sarcopenia.
The only recommended treatment is 30 minutes of daily exercise sometimes coupled with vitamin D supplementation.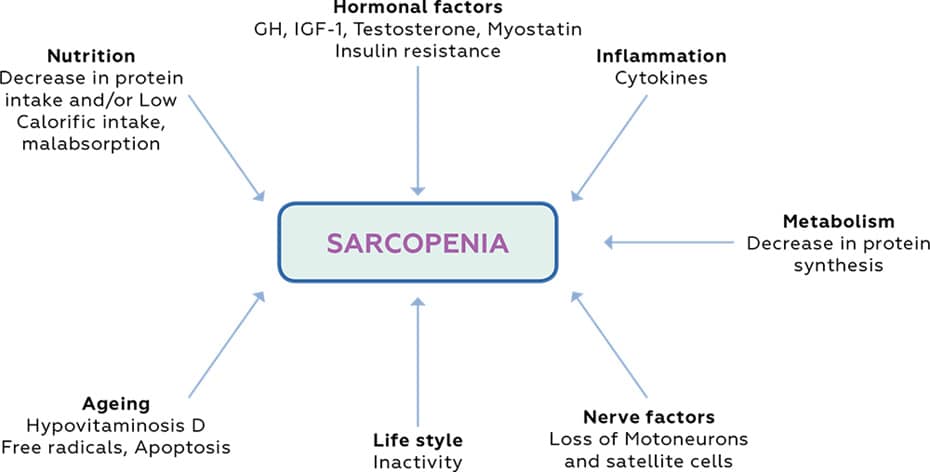 PROVEN SAFETY AND ACTIVITY OF SARCONEOS
QUINOLIA Study – proof of activity study completed in 2010

58 subjects, double-blind, placebo-controlled, nutrition study (dieting).
Oral administration of SARCONEOS (40 mg/day) for 12 weeks (of which 6 weeks hypocaloric dieting).
Demonstrated preservation of muscle strength during the dieting phase.
SARA PK Study – Phase 1 study completed in 2016

54 young and elderly subject aged 18-55 years were followed to study clinical safety, PK and PD of SARCONEOS
The single ascending dose (SAD) treatment involved the staggered oral administration of SARCONEOS to 24 subjects and included two groups of adults aged 18-55 years who received increasing doses ranging from 100 mg to 1400 mg and 1 group of adults aged 65-85 years who received a dose of 1400 mg,
The multiple ascending dose (MAD) treatment provide three dosages of SARCONEOS: 350 mg once daily; 350 mg twice daily and 450 mg twice daily, to groups of 10 adults aged 65-85 years over 14 days.
No serious adverse events were reported, and SARCONEOS demonstrated a good safety and PK profile in young and older adults.
The analysis of PD biomarkers (aldosterone and renin) confirmed activation of the MAS receptor and SARCONEOS activity.
SARA-INT – Phase 2b international interventional study
Objectives
The objective of the clinical study is to assess the effect of the Sarconeos drug candidate on muscle function of persons with sarcopenia aged over 65, in accordance with criteria proposed by the Foundation for the National Institutes of Health (FNIH). Two Sarconeos doses will be compared with placebo: 350 mg in two doses and 700 mg twice daily at meal times. The general objectives of this study (SARA-INT) are to evaluate the safety and effectiveness of two doses of Sarconeos (175 mg bid and 350 mg bid) administered orally for 26 weeks against placebo in a population of people living in the community, aged 65 years or older and at risk of impaired mobility; to estimate the effect of treatment in the target population in improving physical function after a period of 6 months.
Main criteria and key secondary criteria
The primary evaluation criterion of the SARA-INT study is to evaluate the effect of two daily doses of Sarconeos versus placebo on the mobility function as measured by the gait-speed-over-400m test. The difference in absolute value in metres/second observed in each group treated between the beginning and the end of the 6-month study will be compared to that observed in the placebo group. A difference between groups of 0.05 metres/second is considered clinically significant according to the study by Perera et al., (2006).
Two key secondary evaluation criteria are identified: the PF-10 subscore of the SF-36 quality of life questionnaire that will be compared between the treated groups and the placebo group with regard to the difference between the beginning and the end of the clinical investigation phase at 6 months and the chair-to-standing test (SPPB subscore) which will also be compared between the treated groups and the placebo group.
In addition, two subgroups will be considered for the analysis of the results: a "very low speed subpopulation", defined as having a gait speed over 4 meters of ≤0.8 m/s; and a "subpopulation with sarcopenic obesity" defined by a body fat percentage of >25% for men and >35% for women. Subgroup analyses based on these factors will be performed to better characterize the effects of treatment in patients at risk of impaired mobility.