Biophytis' lead candidate SARCONEOS is the first representative of a new class of drug candidates formulated to activate the MAS receptor to protect muscles. SARCONEOS has proven to be safe in two clinical studies.
SARCONEOS activates the MAS receptor
MAS activation triggers three pathways that allow muscle to regenerate, grow, and strengthen.
By activating the MAPK/P38/JNK pathway, satellite stem cells are driven to differentiate and regenerate into muscle cells.
By activating the P13K/Akt/mTOR pathway, myostatin production is inhibited and protein synthesis is stimulated, ultimately leading to preserved muscle size.
By activating the AMPK/ACC pathway, fatty acid oxidation and glucose uptake result in better energy production and utilization, allowing for increased muscle strength and improved endurance.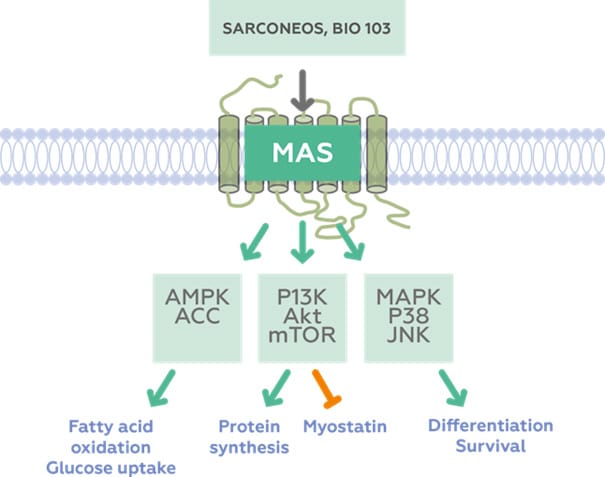 The cumulative effects of activating MAS may lead to better clinical outcomes in patients with degenerative muscle diseases rather than other approaches, which typically target a single pathway, such as myostatin inhibition.
Sarconeos has shown both anabolic properties and beneficial effects on muscle energy metabolism
The effect of Sarconeos on the differentiation of myoblasts into myotubes has been studied in murine (mouse) and human models. Both models showed hypertrophic effects characterised by an increase in the fusion index, the diameter of the myotubes and the number of nuclei per myotube.

Hypertrophic effect of Sarconeos on human muscle fibres
The hypertrophy observed in response to Sarconeos treatment is consistent with a significant increase in protein synthesis, the activation of intracellular transduction pathways involved in protein anabolism and the inhibition of myostatin gene expression in murine myoblasts. AKT and S6K (AKT/mTOR pathway) are activated by phosphorylation.

Activation of a transduction pathway involved in proteosynthesis
The mitochondrial reserve respiratory capacity (RCC) of myotubes is significantly increased by Sarconeos. This metabolic parameter is used to define the amount of ATP that can be produced by oxidative phosphorylation in response to a demand for energy. These results were the subject of an oral presentation at the International Congress on Frailty and Sarcopenia Research (ICFSR) held in Miami from 1st to 4th March 2018.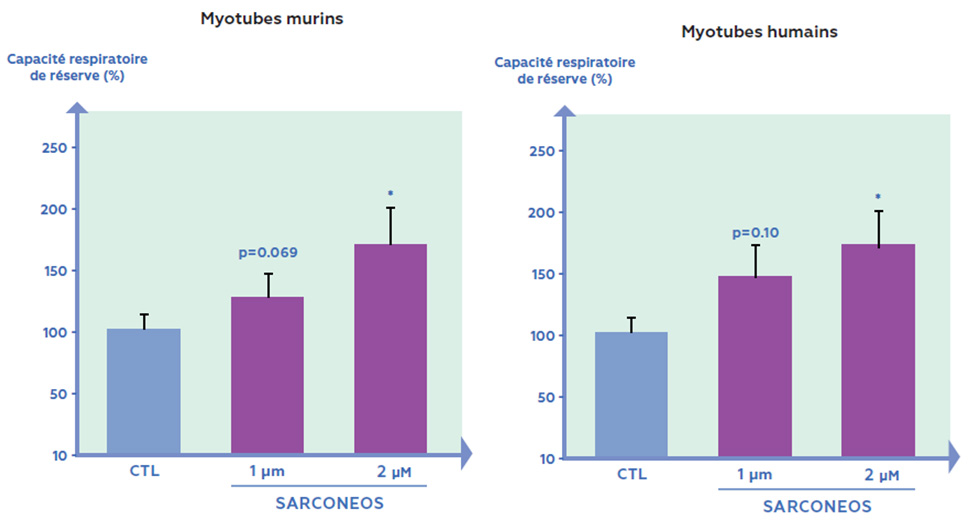 Significant increase in reserve respiratory capacity of myotubes following treatment with Sarconeos
SARA-PK Clinical Study
A clinical safety, pharmacokinetic and pharmacodynamic study was conducted in healthy volunteers, both young and elderly, following a single ascending dose and multiple ascending doses for 14 days.
The design of this study is presented below:
The single ascending dose (SAD) involved the oral administration of Sarconeos in installments to 24 subjects in 2 age groups: 2 groups of adults aged 18-55 years in increasing doses ranging from 100 mg to 1400 mg, and 1 group of adults aged 65-85 years in a dose of 1400 mg.
The multiple ascending dose (MAD) concerned 3 Sarconeos dosages: 350 mg once daily; 350 mg bid (twice daily) and 450 mg bid administered to groups of 10 adults aged 65-85 years over 14 days.
The safety, pharmacokinetic and pharmacodynamic results of SARA-PK confirmed the favorable drug profile of SARCONEOS and allowed us to define which two doses to test in phase 2.
Moreover, the effects of SARCONEOS intake on the evolution of pharmacodynamic markers were evaluated for MAD in an exploratory setting. Very interesting preliminary results showed a tendency towards a decreased plasma level in muscle catabolism markers (myoglobin, creatine kinase) and the renin–angiotensin system (aldosterone and renin).