THE SARCOB PLATFORM TARGETS SARCOPENIC OBESITY. BIOPHYTIS HAS ACHIEVED VERY SIGNIFICANT RESULTS BY ACTING ON A NEW RECEPTOR WITH A FAMILY OF COMPOUNDS, WHICH HAD PROVEN THEIR SAFETY. SARCONEOS, THE MOST ADVANCED CANDIDATE WILL BE ENTERING PHASE 2B IN 2017;
AGE AND OBESITY DISRUPT THE REGULATION OF MUSCLE TISSUE
The aging of muscles is accompanied by a reduction in the size of fibres as well as a change in the distribution of types of fibres. Muscle loss arises in particular from a reduction in protein synthesis linked to the reduction in anabolic factors and an increase in proteolysis. Muscle mass is subject to precise multifactorial control with stimulating factors, such as testosterone, IGF-1 and Vitamin D and inhibitor factors, such as myostatin, produced by the muscles themselves and which acts as an autocrine factor. In aging, and in the presence of obesity, a large number of hormonal changes take place which will break this equilibrium and lead to an imbalance between the two types of factors to the advantage of those which favour muscular degeneration.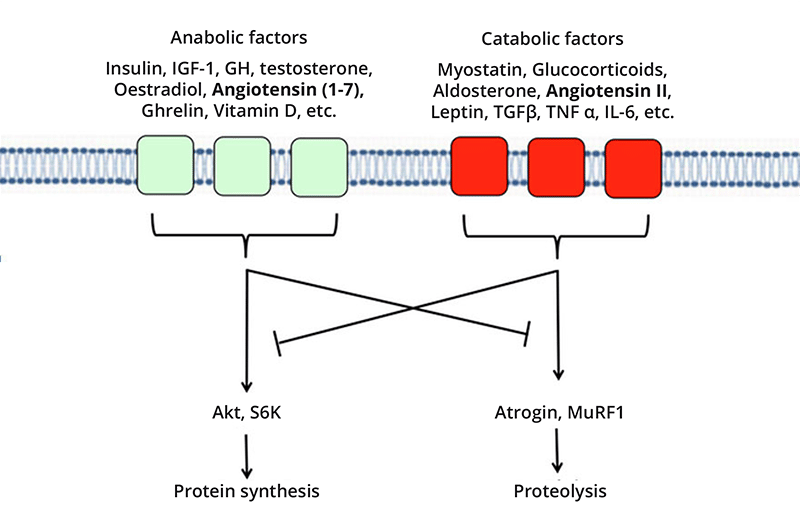 A NEW TARGET INVOLVED IN THE MUSCLE METABOLISM
BIOPHYTIS has focused its work on the activation of a receptor in the renin-angiotensin system (RAS): the Mas receptor. The RAS system is a cascade of endocrine and enzymatic regulations well-known for its role in regulating blood pressure. The involvement of the RAS system in the physiopathological process leading to sarcopenia has been looked at in various studies. A study on the physical capacity of elderly patients treated with certain ACE inhibitors (Angiotensin-converting enzyme) demonstrated, in interventional research, that this treatment could, in some cases, improve the mobility of elderly patients.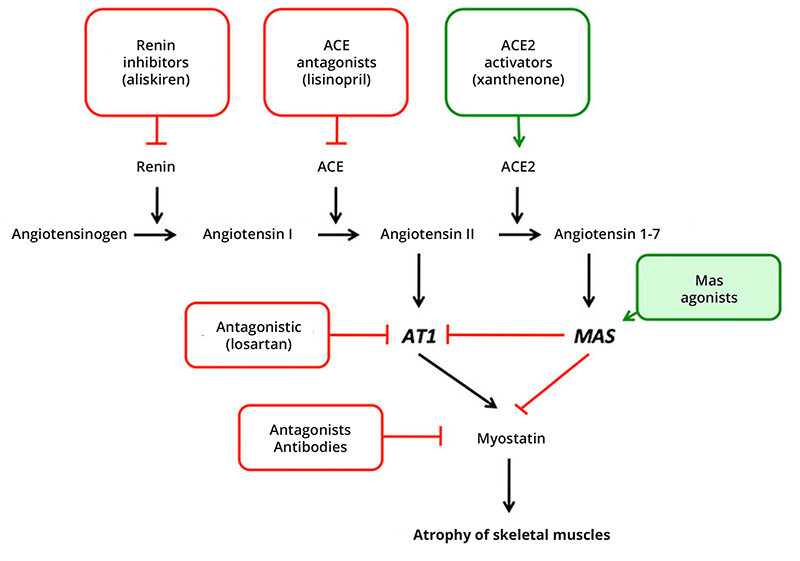 CONCLUSIVE IN VITRO AND IN VIVO TESTS
The BIOPHYTIS compounds are the first Mas receptor non-peptid agonist molecules to be the subject of pharmaceutical development. Tests on the SARCONEOS and BIO103 compounds on muscle cells have shown a significant increase in protein synthesis and in the myotube diameter.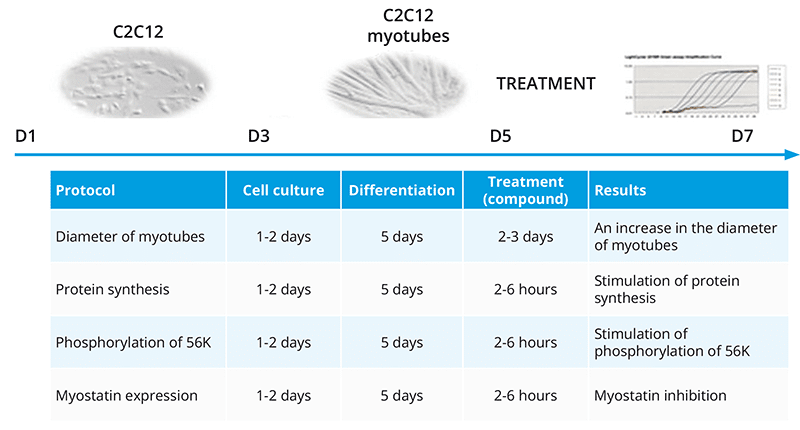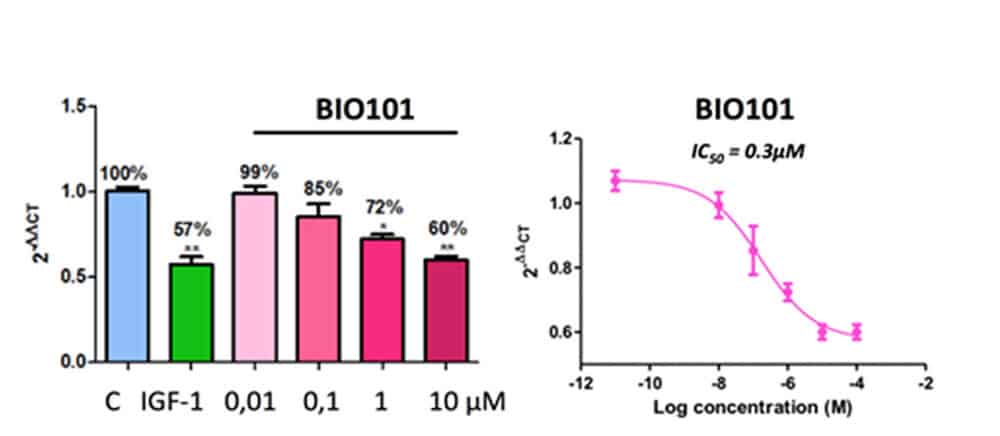 Dose-dependant inhibition of the expression of myostatin by SARCONEOS
Furthermore, in animal models exposed to BIOPHYTIS compounds, muscles were larger and contained more proteins, the expression of a key factor in the proteolysis was reduced and that of the myogenesis was increased.
The effect of BIO101 or BIO103's input on soleus muscle weight and the quantity of proteins in this same muscle following an obesifying diet in mice C57Bl/6.
A PRODUCT THAT HAS ALREADY BEEN CLINICALLY TESTED
The effects of SARCONEOS have been evaluated in a clinical study carried out in obese healthy volunteers following chronic oral administration for three months (six weeks of a hypo calorific diet followed by six weeks of a normally calorific diet). This confirmed the absence of toxicity (no serious adverse events observed) under the dosage studied. A significant reduction in abdominal fat mass and an increase in insulin sensitivity were observed.